Binfire is web-based project management, web collaboration, and content management system specially designed for small and medium-sized businesses working with remote teams.
The software uses the work breakdown structure (WBS) methodology for project management and adds hierarchical tasks to assign dependencies, Tag milestones for quick searching.
Here are eight useful Binfire alternatives App for project management, Team Collaboration, and time tracking.
Binfire alternatives Apps
1

Asana
Asana is an online team task organization tool that allows team members to work together online.
Team members can create simple task lists and assign items to specific co-workers or colleagues.
It is the place where users can plan, organize, and stay in sync with your efforts. – Download
2

Trello
Trello is a web-based project collaboration tool that organizes your projects into simple boards.
Where users get all the information about projects from the project board.
it gives you the basic idea about your plans and tells you current progress about your project and ongoing development of your teams – Download
3

TeamLab
TeamLab is a first Full Featured HTML5 Based universal cloud office that allows you to manage documents, projects, teams, and customer relations in one centralize place.
It offers many useful and handy features that make it easy to collect data and feedback. Rather than waiting to plan a phone meeting or email response.
Users can directly send instant messages, create tasks, and share updates on what they are doing and how the project is going on. – Download
4

Wrike
Wrike is an online project management platform for doing work fast, easy, and efficient in co-located and distributed teams.
Its adaptability enables multi-functional teams to collaborate and get things done successfully in one place.
Plan, prioritize, discuss, and track work progresses in real-time with a few mouse clicks. – Download
5

Teamwork Project Manager
Yet another easy to use online project management and teamwork tool that allows your managers, staff, and clients to work together in one centralized place to become more productive online. – Download
6

Do.com
Do.com helps users to manage the tasks, projects, and files that need to complete for a project or other activity.
It is the easiest way to get all your work done, also a social tool that enhances your productivity while joining all project or activity participants.
Team members can share notes and get updates that will be received instantly by collaborators.
Such real-time efforts and honest discussion can make a difference and decide if a project is successful or is a failure. – Download
7

Mavenlink
Mavenlink is a cloud-based team collaboration and project management tool.
it allows team members to manage collaboration with their team, share files, send messages, track time & expenses, manage budgets, and invoice your clients in one centralized place. – Download
8

Clocking It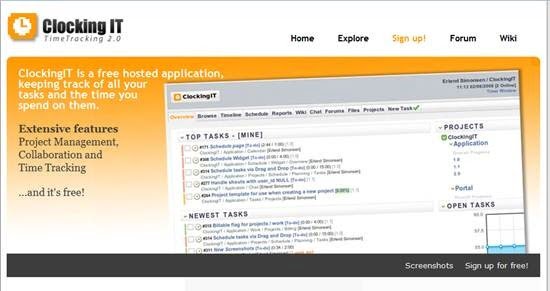 Clocking It is a Project Management, Collaboration, and Time Tracking tool for tracking all your tasks, concerns, projects, and time spent with a focus on software development and handling large amounts of jobs. – Download